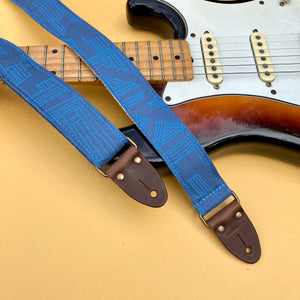 Nashville Series Skinny Guitar Strap in Shelby
Regular price $55.00 Sale
This skinny guitar strap features a geometric print on beautiful blue linen that we've combined with our soft cotton backing, antique brass hardware, and fine brown Horween leather. This strap is named for Shelby Park in our hometown of Nashville. 1.5" inches wide / adjusts to 58" inches long.
All shipments are carbon neutral.
If you'd like to request a custom size or swap the leather color for black or brown, send us an email.
If you have any questions about this item, send us an email at hello@originalfuzz.com. We often work directly with customers to customize and tailor their order to their needs.
Made to Order
Note that most items are made-to-order at our shop in Nashville. Once it's ready to ship you'll get a tracking code emailed to your inbox. We ship everything USPS First Class.
International Shipping
We ship internationally to most of Europe as well as many countries in Asia, Oceania, and the Americas. We must charge you for shipping on any returns or exchanges.
If we ship to your country, then you'll see shipping options on checkout. If you have any questions about international orders, don't hesitate to contact us.
Rush Delivery
We don't offer rush delivery. Each item is made-to-order and shipped USPS First-Class.
Exchanges & Returns
Did you change your mind about a purchase? Don't worry, you can exchange it or get a refund within 30 days of purchase for any reason. Because of the artisan nature of the textiles we use, some of our patterns might never be produced again, so if you'd like to exchange that item, you'll have to pick from what's available at the time of your exchange. Just contact us and let us know what you'd like to do. We'll follow up and send you a return shipping label.
If the order is incorrect, the item is defective, or your product breaks due to normal wear and tear, we will make it right. Email us at hello@originalfuzz.com to let us know your issue. We'll get back to you as soon as possible.
Return Address:
Original Fuzz
PO Box 68243
Nashville, TN 37206